Also living in the shelter is Svitlana from Avdiivka. She lives here with her younger daughter and two pit bulls named Karamelka and Simon. Her evacuation story deserves a separate movie.
"My older daughter already has her own family and lives far away. The younger one, Sasha, is 13 years old. We left with her. At home, we had a large apartment where we were quite comfortable with two dogs and two cats. But when the Russians began to bomb, we couldn't find shelter for ourselves. Nobody wanted to take us with the animals," the woman says. Sometimes she falls silent to calm down, and tears occasionally appear in her eyes.
"The cats are being taken care of by a woman in Avdiivka who keeps them for us, and I send her money on a card. But I couldn't leave the dogs with anyone. My older daughter searched for shelter options for us all over Ukraine," Svitlana says.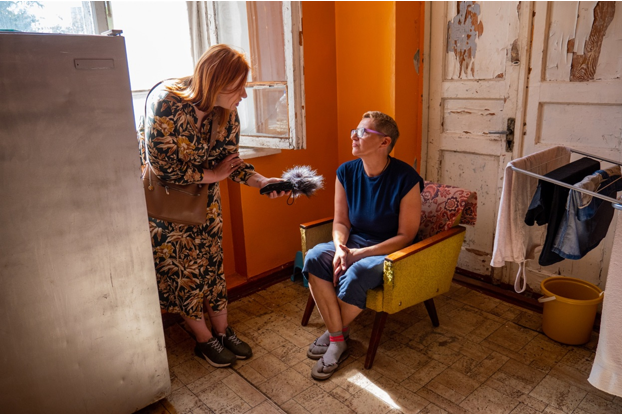 But no one wanted to take them with two big dogs, so they sat under shelling for months. In the middle of summer, they managed to find an empty apartment in Kryvyi Rih where they were willing to accept them, but in Avdiivka, the tower was destroyed, heavily bombed, and by the time she contacted the volunteers, the apartment had already been rented out.
"We left in August because we knew where to go. I saw the shelter number on the internet, called them, and they said, "Come, you'll have a place to live." We gathered everything we could, put it in bags, took clothes for the dogs and warm clothes for ourselves. Trained since 2014, we tried to take as much as possible. The police no longer evacuated people at that time, so we arranged with a man who needed work – we agreed to be taken out for 5,000 hryvnias," the woman says, stopping to calm down.
This man is the only one who agreed to take Svitlana and her family out at all.
"We drove halfway, I started calling the shelter, but no one answered. The carrier started to get nervous – he still had to return to Avdiivka. My daughter started crying, afraid we would stay on the street.
Thanks to the driver and his acquaintances, we found volunteers who helped us contact the shelter and explained where to go. But when we arrived, we were told, "Sorry, we won't take you." Well, two military dogs. I couldn't take it anymore and burst into tears," the woman says.
Svitlana only had enough money for the way back, and she would have returned, but the shelter founders could not let her go under the bombs and allocated a room.
"The volunteers have kind hearts, they took pity on us and made an exception. You see, pit bulls cannot live with other dogs, it's dangerous, Simon's grip is dead. Although they react very well to people and love to play with children. To let them release their energy, I take them to the river every day, put on muzzles, and let them swim," the woman says.
Svitlana is a professionally trained massage therapist-cosmetologist who is eager to find employment within her field as soon as she is able to train her dogs not to bark in her absence.