We, as an organization, express our gratitude to the Christian Church "Good News" and personally to its pastor Volodymyr Ivanov for supporting the shelter of the "Good on Amur" fund, all its residents, and volunteers. The "Good News" Church from Dnipro city started providing charitable assistance to the internally displaced persons from the areas affected by active hostilities in Ukraine after the start of the war. Representatives of this church went to various regions where people needed help (sometimes very remote and sometimes very dangerous) and provided them with essential items such as food, clothing, building materials, firewood, and other necessary things that people who remained in these territories and needed support – material and psychological.
Representatives of the "Good News" church visit the residents of our shelter, as well as other internally displaced persons from the hot spots who have moved to Dnipro. Meetings with them have already become a good tradition, and we look forward to them because we know that these people always come with gifts. They brought us hygiene kits, diapers for infants, food aid, children's food, and a lot of delicacies to treat and please our children. Moreover, they organize various events for the internally displaced persons, congratulate them on holidays, and help maintain a friendly and sincere atmosphere in our shelter, for which we are very grateful.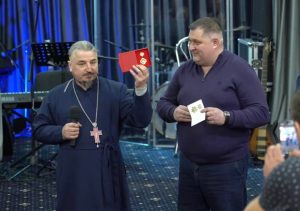 Recently, the pastor of this church, Volodymyr Ivanov, received an award from the head of the Orthodox Church of Ukraine, Metropolitan Epiphanius, and we congratulate him on this. We wish him good health, mental balance, and strength to do even more in his chosen path of serving people.